Kayla is such a natural beauty...I just couldn't get over her gorgeous eyes! I was thrilled to be her senior photographer and she has the sweetest Mom! When we were planning her session out a few days prior, I knew that I wanted to take her to a sunflower field that was in bloom. I missed out on the field last year, so I want to take full advantage of it for her senior photos:) My favorite thing about this field is that the sunflowers do not tower over you, but instead, embrace you! We finished up her session in downtown Chatham (including the new Competition Alley)! Kayla attends Chatham High and plays for their soccer team. Megan Bryant Photography seniors who choose the Glam session get pampered with salon styling before their senior portraits. Professional hair and makeup is a must for your photo session! Kayla met with stylist Kara before her session and received a natural curled look and professional makeup that made her skin so smooth and even. And just for the record, those lashes are ALL Kayla's! Jealous?? Yea, me too!
On to a few favorites from her senior photo session:
This jacket was perfect for her casual dress...and I love the red barnwood.
And who doesn't love a good black and white??! This one is just PERFECT of Kayla...
Kayla ordered some beautiful products, including a gorgeous custom cover album! She also ordered a stunning enlargement (not pictured)!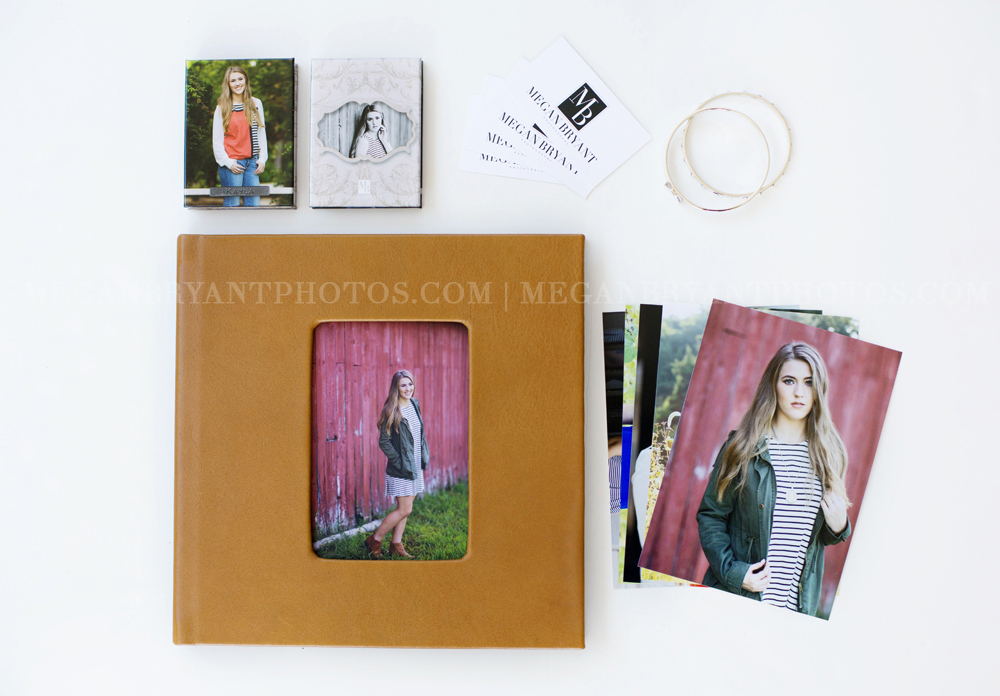 Kayla, you are simply gorgeous! I loved working with you:) Thank you for being such an awesome model and for choosing MBP! I wish you the best for your senior year at Chatham and foresee a lovely future for you!
If you're looking to book senior portraits with Megan Bryant Photography, be sure to stay tuned for the opening of my spring calendar!
-Megan